MPA and UNIDO (United Nations Industrial Development Organization) for MODJO LEATHER CITY, Ethiopia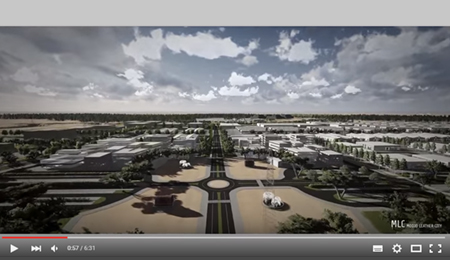 A MODJO LEATHER CITY: AN INCLUSIVE AND SUSTAINABLE LEATHER DISTRICT.
The Ethiopian leather industry enjoys significant comparative advantages. Indeed Ethiopia has one of the world largest livestock population making the country ranking the 1st in Africa. Twenty-nine tanneries are processing and producing finished leather in different sites with a total of installed capacity of 500 million square feet per year.
About 48% of the existing tanneries in Ethiopia are operating in Oromia region, due to availability of raw materials and water supply as well as skilled manpower generated from a long leather processing tradition in the area. However, the impact of the pollution caused by tanning operations, has created many environmental and social problems due to the proximity of the Modjo urban area.
The pollution problems created from tanning activities require an urgent solution that looks at a proper urban planning for the relocation of the existing tanneries operating in urban areas.
These problems are common to the majority of the tanneries located in various Countries around the world. The best solution to solve these environmental problems is to set-up a leather district. An industrial district is an agglomeration of companies, suppliers, service providers, training and R&D institutions as well as offices of the local authorities in a dedicated area. This area will reinforce the synergies and relations between these different players.
Moreover, through these linkages, one district is inevitably connected to other national industrial stakeholders as well as to the overall Ethiopian economy. The concentration of tanneries in a new and modern industrial district allows the elaboration of a common environmental strategy for facing all pollution problems in a cost efficient manner.
UNIDO in collaboration with the Leather Industry Development Institute (LIDI) and the Addis Ababa University, prepared a Feasibility Study to setup the MLC (Modjo Leather City).
This represents an opportunity to establish an environmental friendly leather tanning district driven by a network of tanneries. The construction of a common Waste Water Treatment Plant is considered as a priority, in order to reduce the environmental impact of the leather processing.
Credits:
Designed by Joint Technical Team of international experts:
URBAN PLANNING: Architect Sauro Di Sandro
COMMON EFFLUENT TREATMENT PLAN: Engineer Daniele Bacchi
TANNING TECHNOLOGY: Engineer Sergio Dani
VISUAL DESIGN: Mittel Pro Architetti
Arch. Pier Paolo Angeleri
Arch. Alessandro Guasti
Arch. Nicola Trintinaglia
Anna Solavaggione
Antonio Saccomanno
Giovanni Comi